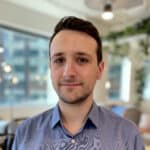 Today, it seems that everyone is talking about Artificial Intelligence (AI) and Large Language Models (LLMs). These transformative technologies — and the range of available models, including OpenAI's ChatGPT and Google's Bard — have the potential to revolutionize industries and put businesses ahead of their competition.
If you're anything like me (and most of our clients here at APrime Technology), you're very excited but also carry reasonable concerns: Where do I begin? Do I need to hire new AI-focused Engineering or Ops teams? Can I even utilize an LLM if my industry is bound by strict data privacy policies — and will Legal even sign off on this? Will this AI hype be more of a distraction than a boon to my business?
How can AI/LLMs help your mission?
I'm here to reassure you that just about any company can reap very real benefits from AI, ranging from incremental features to groundbreaking, industry-shaking innovations. The right approach can ensure that your company does so in a safe and secure way.
At APrime, we have experience building with AI models and incorporating LLMs into business workflows and key product offerings. As a team of technologists led by MIT alumni with decades of technical experience and a proven track record of success, we thrive at the intersections of AI/ML, big data, software design and distributed cloud systems.
Below we share a few particularly effective ways we have seen — or anticipate seeing! — businesses like yours take advantage of AI/LLMs to either directly accelerate product development or free up resources for innovation by taking less strategic tasks off of your team's plate.
---
Opportunity: Securely Leverage Proprietary Enterprise Data
Many companies, particularly within highly regulated industries like Healthcare and Financial Services, are quick to dismiss the possibility of integrating with an LLM because they would need to send sensitive data to an AI platform provider like OpenAI or Google.
If you're storing tons of information that you can't make full use of today because it's proprietary (and you don't want to share it with third-party AI systems) or unstructured (not stored in a way that makes it easy to read from a database), APrime can help you leverage LLMs to make the most of that data while keeping it secure and making sure it never leaves your ecosystem.
In Healthcare: Provide semantic-based search through physician notes of patient visits in order to capture important clinical data from the unstructured notes, including symptoms that aren't coded with diagnosis codes
In Education: Perform sentiment analysis on homework and survey submissions over time, so that teachers can identify students who may need additional support
Auto-generate and update client-facing API documentation directly based on a tech company's source code
---
Opportunity: Automate Operational Tasks to Maximize Efficiency
AI models provide a great foundation for process automation and improved operational efficiency, allowing your team members to focus on their highest value work: proactively addressing problems and planning for the future, instead of reacting to issues after they have escalated, or spending time on repetitive tasks.
Triage and route incoming Customer Support tickets
Analyze fraud attacks or infrastructure performance at scale by identifying anomalies in real-time before they can further impact your business
---
Opportunity: Kickstart Content with Generative AI & Translation
LLMs can accelerate your content and documentation efforts, whether text, pictures, or other media formats. These types of tasks — when appropriately integrated into a company's editing and production work streams — kickstart new content generation, refine existing content, and translate between different languages.
Translate articles, documentation, and any other copy you publish into every language required to support your customers
Auto-document code with comments and wiki documentation, accelerating development velocity
---
Opportunity: Support Customers and Staff With Chatbots
One major use case for AI/LLMs has been the launch of chat bots that reply to a user's messages in a way that feels natural and approachable. We can help you quickly launch a chatbot to wow customers and save your support and sales teams time.
Direct customers to relevant articles compiled in your knowledge base, instead of immediately connecting these users to a live person
Take common actions on an account (e.g., my order still hasn't arrived — where is it? What is my account balance?)
Create a "chat with your contract" tool that allows a company with government contracts to build an LLM-powered interface for the RFP and contract documents. These documents can be uploaded in their original pdf format, and then people at your company can directly engage with the data and details by simply asking questions using natural language.
---
APrime is here to help
As a consulting firm with deep experience in accelerating tech company growth and solving customer problems with technical solutions, we are uniquely positioned to guide you through identifying and implementing the best use cases for incorporating AI/LLMs into your business.
We follow a simple 3-step process:
Identify the right use case: We work together with you to pinpoint areas in your enterprise where LLMs can add the most value. This collaborative process involves brainstorming objectives, defining key feature areas, and refining requirements.
Design the approach: We then identify the most appropriate AI/LLM model(s) based on the requirements and work to design the architecture to be custom integrated to your existing platforms, data models, and infrastructure.
Implement your AI solution: APrime serves as your partner in actually developing, testing, and launching the new integration.
We operate with companies of all sizes and provide flexible engagement models, ranging from flex capacity and fractional leadership to fully embedding our team at your company. We are passionate about innovating with AI/LLMs and love solving tough problems, shipping products and code, and being able to see the tremendous impact on both our client companies and their end users. When working with us, you can rest assured knowing that each APrime engineer is focused on your project and has the support they need to produce their best work.
No matter where you are in your AI journey, schedule a call with our founders today to explore how we can make use of this powerful technology, together!
Let Aprime help you overcome your challenges
and build your core technology
Are you ready to accelerate?